Icon & Rocket: Season One Examines Power and Responsibility
By Donovan Morgan Grant | DC
If superheroes existed in the real world, and they were Black, what would happen?
That's the core concept of Icon, which challenges the whole of the superhero genre. Created in 1993 by Dwayne McDuffie, Derek T. Dingle, Michael Davis and Denys Cowan as one of the launch titles of their Milestone Media comic book lineup, Icon tells the story of Augustus Freeman IV, a black lawyer living well in the city of Dakota but who's secretly an extraterrestrial being who's lived among humanity since the Civil War. However, the real star of the book is Augustus' teenage partner Raquel Ervin, a.k.a. Rocket. It was Raquel who convinced Augustus to take on the identity of Icon and together they clean up the streets as a superheroic duo.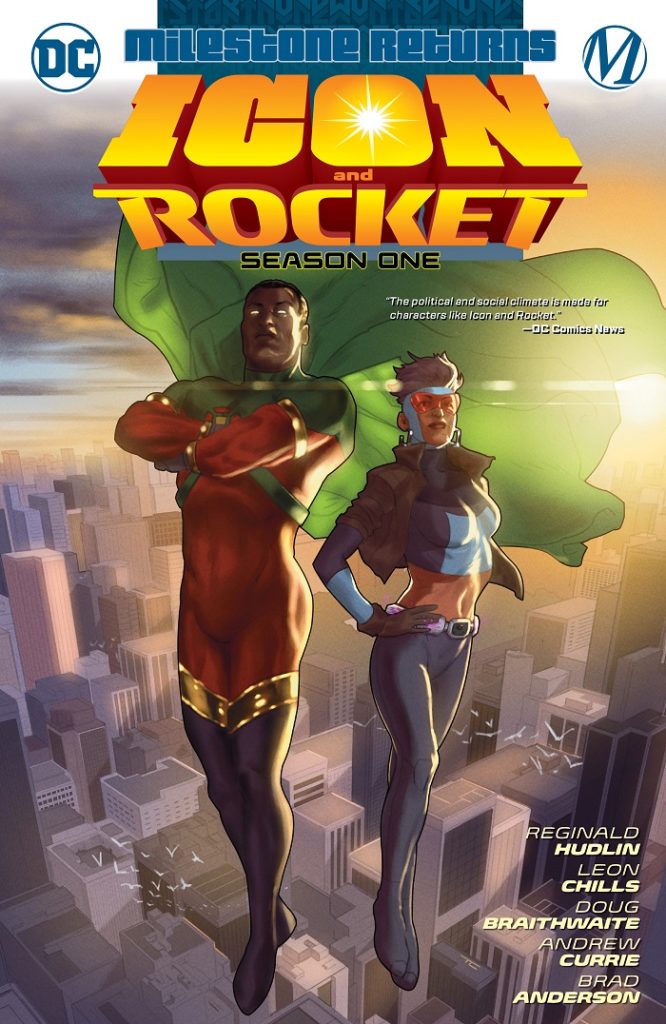 Over the course of their initial series, Icon and Rocket tackle issues that weren't often found in mainstream superhero comics at that time. In issue #1, they're confronted by a racist police force. By the end of issue #2, Rocket discovers she's pregnant. The book contrasted their views on superheroes with other Milestone characters like Hardware and the Blood Syndicate. It even included satire with an affectionate parody of DC's esteemed competition by way of a tiara-wearing, slogan-shouting crimefighter named "Buck Wild." But at the heart of the series was the goal of meaningful representation, which it accomplished by believably featuring characters that speak towards the real-world concerns of those who don't often see themselves represented in comic books.
That mission statement has been updated for today's volatile world in Icon & Rocket: Season One, which is now available as a graphic novel. Written by Reginald Hudlin and Leon Chills and featuring art by Doug Braithwaite, this new series retells the origin story of our heroic pair, but quickly moves to address modern-day concerns.

In the 2020s, Black heroes are less of an unknown quantity, but would their methods still differ? Right away, Icon and Rocket attack every drug dealer, pusher, smuggler and hustler in Dakota, before taking their fight over to the poppy fields of Afghanistan. This catches the attention of the local news, which is more concerned with finding out the duo's secret identities rather than relishing in their success winning the drug war. Police quickly investigate Raquel's home and harass her mother. In Washington, the President is advised that Icon's assault on drugs had resulted in devasting ramifications for the global economy, which for decades had relied upon the needs of the downtrodden to fuel certain facets of governmental control. Contingencies are put into place to find out what Icon's true motives may be and how to stop him—permanently if need be.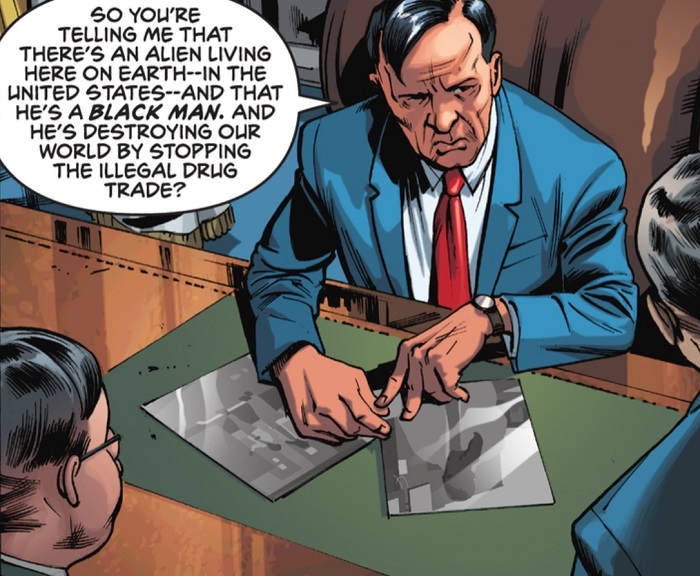 It's an intense vision of government's paranoia at a large-scale rejection of capitalism, and—to borrow from the great Public Enemy—their fear of a Black planet. Through flashbacks we're shown that Augustus' war against slavery created the myths of the inhuman negro, bolstering the continuation of racism through his overpowered actions. This revelation confronts a criticism of the Icon of old, for if the character lived through the Civil War, why didn't he definitively end slavery when he could? It's a question directly thrown at the title character, and like many scenes throughout the miniseries' six issues, it's one without a given answer. The team of Hudlin and Braithwaite want the reader to engage with the hypotheticals and ponder what a world with Icon and Rocket might mean for their current present and possible future.
The story is told at a fast pace over its six chapters, but the essentials are delivered with enough time for the reader to consider the next problem. Icon and Rocket are heroes within their community, and that grants the lower-class citizens of Dakota the courage to stand up for themselves against those who would do them harm, whether its local gangsters or the United States government. Despite the violent reactions from the police and even some super-powered reinforcements sent to eliminate Icon, the positive outcome that Raquel promised Augustus—that people find their inner strength when given an example to look up to—proves true. Her calling to help the people benefits her community in ways never before seen in the world. Of course, the answers she finds only lead to more questions, as issues of society continually challenge her and Icon on a mental and spiritual level. It's more than enough for the revitalization of a series that aims to tell stories well beyond those of the average costumed hero.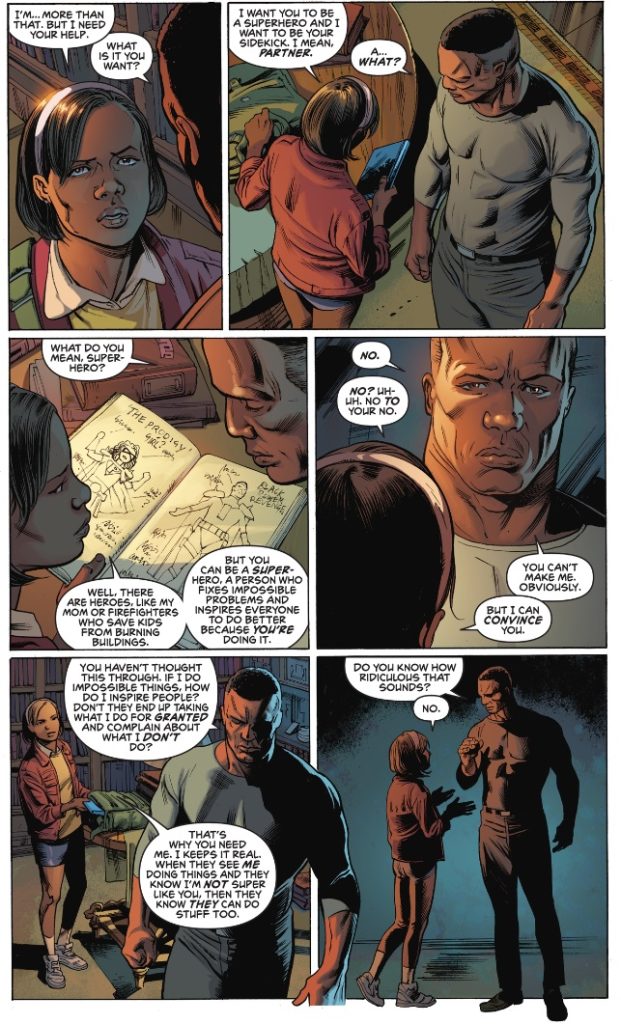 With Icon & Rocket: Season One, the creative team has brought Milestone's most powerful hero into the modern day, challenging the readers' very idea of right and wrong, good and evil on a level that resonates today. With more than enough action and commentary on the complexity of today's problems, this is a series that can't be missed for fans of smart superhero storytelling, whether they're longtime Icon fans or new to his world, which feels more essential than ever.
Icon & Rocket: Season One by Reginald Hudlin, Leon Chills, Doug Braithwaite, Andrew Currie and Brad Anderson is now available in bookstores, comic shops, libraries and on DC UNIVERSE INFINITE.
Donovan Morgan Grant writes about comics, graphic novels and superhero history for DCComics.com. Follow him on Twitter at @donoDMG1.