SDCC Interview: Hudlin, Cowan Say Christopher Priest Is Part Of Milestone 2.0
From Comic Book Resources, July 10, 2015
Jonah Weiland, Executive Producer/Publisher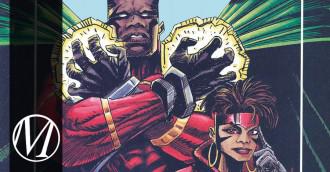 Though acclaimed writer Christopher Priest was heavily involved in the early development of the Milestone Universe, by the time the first issue bearing the iconic "M" logo — which Priest designed — was published in 1993, he was no longer a part of the company.
So when Milestone 2.0 was announced in early 2015, one of the questions on many peoples minds was whether Priest would be involved in the company's resurrection.
While taping an interview with CBR TV at Comic-Con International, Milestone co-founders Denys Cowan and Reginald Hudlin gave us the definitive answer.
"We love Christopher Priest," Cowan stated when asked if the outspoken writer was a part of the current Milestone Media rebirth.
"I'm just gonna say it," added Reginald Hudlin. "So the drive from L.A. to San Diego is like three and a half hours long. I pretty much spent the entire trip talking to Christopher Priest as we were breaking a story. So then I got down here, I go to Denys, 'Let me tell you what we've been working on.'"
"Except it was at 1 o'clock in the morning," Cowan continued. "So we're speaking for an hour at 1 o'clock in the morning. He's telling me this story. It's so good we stayed on the phone for an hour just talking about that like, 'Dude. And then what happens? And then what happens? And then what happens?' I'm like, 'Oh, my God, — I have to draw this right now.'"
"It's so good, it's so much fun," said Hudlin. "So then last night I was up, everybody was asleep, I'm like 'OK,' because he sent me notes. So I got like four different e-mails this morning. I'm like, 'Aaaaaaah!'"
"To answer the question, yes," Cowan said.
"And Christopher Priest, who we love, who we've always loved and we're so happy to be working with him again, he was part of the original team," Hudlin added.
"He was part of the original Milestone. That fifth Beatle that never really gets recognition," said Cowan.
"But there's been so many incredible high-level writers and artists who've been like, 'What?! Milestone's back? I'm in! When? Where?'," said Hudlin. "It's been incredible. The biggest names in the business are like, 'We are down. We wanna be in.' We're super excited about the amount of firepower we're gonna bring."